Seattle Indies Holiday Party 2017
What happens when you take 180+ indie game developers and throw a holiday party? You get something different. Not your typical office party. Something buzzy and cozy at the same time. Stylish, artistic, independent and fun.
Seattle Indies Holiday Party is to the office party, what GDC is to any other large corporate conference.
The 2017 edition of this great event took place on December 10th, in a stylish and warm venue that was the perfect size. By 7.30pm, the beautiful Factory Luxe in the Old Rainier Brewery was buzzing with the fine members of Seattle Indies. The fancy suits and dresses mingled with the eye-catching Christmas sweaters. The guests shared stories and laughs while feasting on the delicious food available.
In the back room several tables were filled with indies and friends enjoying a variety of board games. How else would a bunch of gamers/makers choose to embrace the holiday spirit.
This year's party also hosted the first ever Seattle Indies Silent Auction. Many exciting items and services, all donated by community members and local companies, were auctioned off, raising nearly $1000 for the Seattle Indies' 2018 budget. This will help cover recurring business expenses and provide food and drinks for volunteers at our showcases, game jams and SIX.
This year a team of volunteers helped bring everything together, from the drinks and food to the games, decor and fun activities like the Photo booth and Silent Auction.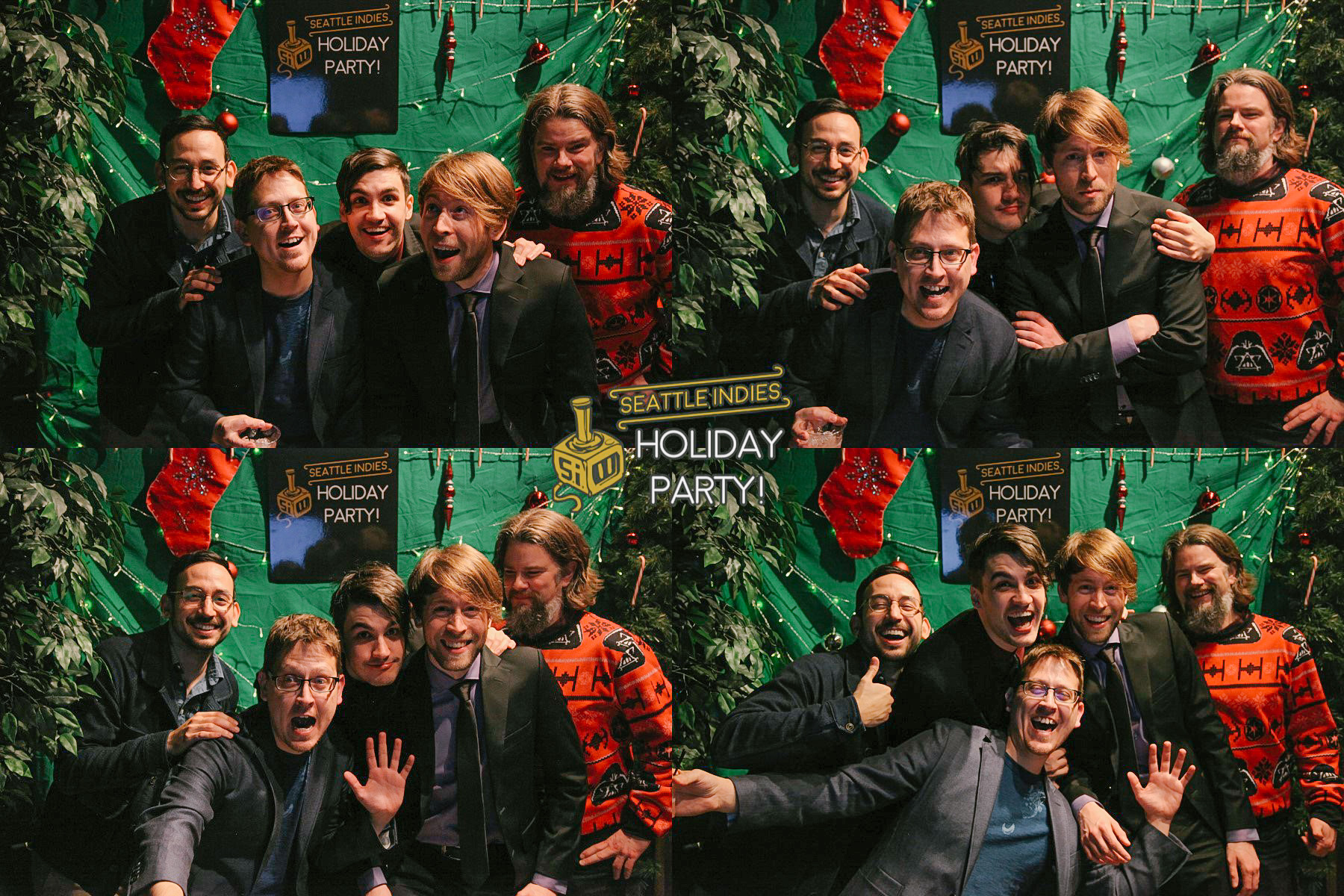 And we have to send out a special thank you for the support of a few generous sponsors, who made it possible for us to have a great night, full of moments to remember.
We are grateful for the support of Seattle Indies Patreon donors, Amazon Appstore, tinyBuild, PlayEveryWare, and Dropleaf. They enabled the Holiday Party to once again be an unforgettable event, where the community shared the holiday spirit, the friendship and the support. What better way to start a new year? A year of difficult, exciting, challenging, rewarding and passionate indie game development…